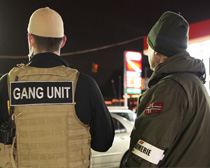 WASHINGTON — Across the United States, gangs threaten public safety in neighborhoods and communities.
"Transnational gangs are a worldwide problem, not confined to any single country," said Mark Selby, unit chief for U.S. Immigration and Customs Enforcement's (ICE) Homeland Security Investigations' (HSI) National Gang Unit.
Outside our country's borders, law enforcement agencies like France's Gendarmerie Nationale are facing similar problems. There, gangs typically affiliated with Algeria, Tunisia and Morocco, are trafficking narcotics and using violence to resolve issues. These gangs are territorial and strive to control criminal activity in areas where they reside.
After hearing Selby make a presentation at a EUROPOL meeting, Captain Benjamin Suzzoni of the Gendarmerie Nationale had to learn more. Suzzoni convinced his colonel, Francis Hubert, to make the trip across the pond to shadow ICE HSI special agents with the ICE HSI National Gang Unit.
"We wanted to make sure they got the full experience," said Selby.
The ICE HSI team not only shared practices and strategies on how to combat transnational gangs, but they also took the French officers on an evening ride along with local law enforcement officers from the Dallas Police Department's Gang Unit. That evening, Gendarmerie Nationale personnel observed firsthand several ICE HSI strategies used to combat gangs, ranging from field interviews with known gang members to how agents utilize confidential informants. The French officers were particularly impressed with the effectiveness of Operation Community Shield, a national gang enforcement initiative where ICE HSI partners with international, federal, state and local law enforcement agencies to combat gangs.
"We rely on all of our law enforcement partners. Without them, we wouldn't be able to successfully conduct the targeted anti-gang enforcement actions or long-term criminal enterprise investigations that we do," said Selby. "In the majority of cases, we know who we're going to arrest before we arrest them. Information sharing and intelligence from the local police departments that work with us allow us to do this."
The representatives from the Gendarmerie Nationale plan to apply similar strategies to their gang enforcement activities upon their return to France. The Gendarmerie Nationale oversees law enforcement responsibilities for nearly 95 percent of France and French territories. Its force consists of more than 100,000 personnel.